Tick Tock Energy is celebrating 13 years of business in Central Illinois this year. What started as a business venture by brothers Craig, Eric and Matt Pals, in 2006 has grown quickly and is now one of Central and Southern Illinois' leading energy solution contractors.
With projects in over 8 states, Tick Tock Energy has brought energy savings to hundreds of households, businesses, farms, municipalities, non-profits, and many others. Overall, Tick Tock Energy has installed nearly 10,000 solar panels amounting to over 2.8MW of DC capacity.
Because of their strong dedication to bringing solar online in Illinois, even when solar was just beginning to take hold nationwide, Tick Tock Energy has been awarded one of the Top 500 Solar Contractors in the United State for 4-years running from 2015-2018.
Tick Tock has come along way since the early days of the solar industry.
One of Tick Tock's first solar installations was for Teutopolis Junior High School in 2007. The pole-mounted solar array had 8 panels with a capacity of 1 kW (DC) and served as a great educational tool for students and the community.
Tick Tock's First Solar Installation in 2007
As customers' needs have changed over the years, so too has Tick Tock Energy's services. Small wind turbines were popular for many years before the price of solar dropped so dramatically. In 2009, the company installed its first Bergey 10 kW wind turbine for J. Macari, a farmer and businessman from Shelbyville, IL. He had operated a smaller turbine for over 20 years prior and a leader in the country as early adopter in renewable energy. Not stopping with just a wind turbine, Mr. Macari later had Tick Tock Energy install wall-mounted solar arrays in 2010 and 2011.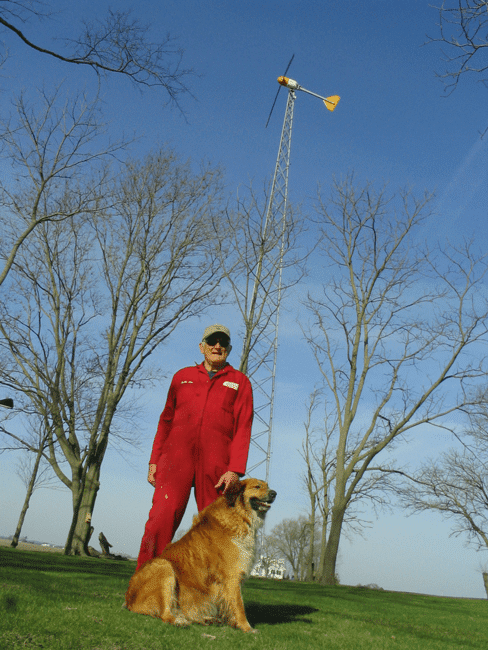 Mr. Macari and Dog Toby in front of Bergey Wind Turbine and Solar Installation
While Tock Tock Energy has installed many small and medium solar installations, the company has grown to take on much larger projects. In 2018, the company installed an eye-catching 206.7 kW (DC) ground-mounted solar array for BBQ sauce-maker Country Bob's in Centralia, IL. The project required 608 solar panels and 6 solar inverters, saving Country Bob's an estimated $13,300 per year!
Tick Tock President Eric Pals shakes hands with Country Bob owner Reed Malcovic, alongside Tick Tock Vice President Craig Pals (right) and Project Manager Lance Durham (left)
Lastly, energy-efficient lighting has been a cornerstone service the company offers which it continues to offer. Over the years, the company has numerous commercial and institutional customers reduce their electric bills and brighten their facilities with a lighting upgrade. The company has seen changes in lighting technology from fluorescent T8 and T5 lamps to the now popular LED fixtures.
Through solar and wind installations, lighting upgrades, daylighting solutions, and power management, Tick Tock Energy has grown to fit the needs of those who are seeking to cut their bills, find energy independence, and protect themselves from future price inflation.
As Tick Tock Energy continues to grow, the company looks forward to playing a major role in helping our Midwest customers REDUCE-PRODUCE and MANAGE their energy use, or more simply REDUCE-PRODUCE-MANAGE ® which is a phrase the company trademarked back in 2007. As customers continue to seek ways to reduce their energy use and costs, Tick Tock Energy plans to be here to offer solutions for a long-time into the future!